Thank you to our patrons and neighbors for approving the renewal of NDL's millage for ten years.
We appreciate your support and love being your library!
Holds can be picked up at the Circulation Desk or via Curbside Pickup, book online or call 248.349.3020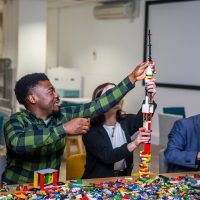 90 Years of LEGO with Bricks McGee
Saturday, August 27 from 1 – 3 PM (Online Event)
Join the Lego Master Builders at Bricks McGee as we learn the history of Lego, then show off your own Lego skills with an at-home challenge (or two). Register.
This program is intended for LEGO enthusiasts over the age of 18…but we will not restrict by age. LEGO will not be provided by the library and attendees should have their own LEGO at home to participate in the challenges.
Photo credit to Bricks McGee.